I have a gift for you!
TROPICAL TARGET is 80-page romantic suspense is the epilogue to the story, The Warrior's Way, from the series Apache Protectors: Tribal Thunder.
I'm giving this story away FREE as a welcome gift for joining my VIP Readers - That could be you!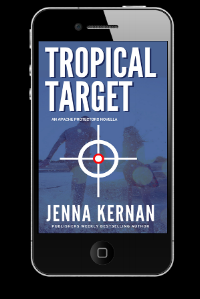 When Apache tribal police detective, Jack Bear Den, and his new wife, FBI agent, Sophia Rivas, arrive in Hawaii for their honeymoon, two near-fatal accidents put them both back on duty. Can these two newlyweds stop their attackers before the killers succeed in ending this marriage and their lives?
I love my VIP Readers and want to let them know how special they are!  I appreciate my VIP Readers taking the time to connect and including me in their inbox!
 
If you are not yet one of Jenna's VIP Readers, you can join her list and get insider access to new releases, sneak peaks, cover reveals, free reads and inclusion in her giveaways!
Sound good?
Here's the link again: 
https://mailchi.mp/jennakernan.com/vipsubscribers